Gastric Band Hypnosis – Weight Loss Programme
Sheila Granger Method
Lose weight without dieting!
Virtual Gastric Band hypnosis is now available in Christchurch and is a non-surgical technique which uses the power of hypnosis to retrain you to be satisfied with smaller amounts of food. It changes how you think about food. It is not a diet – you just learn to eat smaller portions – you can eat what you want so there are no feelings of deprivation. It teaches you to listen to your stomach rather than head and eyes – babies have this mechanism in place, they cry to be fed when hungry and stop when they're full. It's about small realistic change and is designed to change the way a person thinks about food.
It is the only programme that has been subjected to trials and has been shown to be successful for 95% of participants. It will only take a person to where they want to be as they learn to follow their instincts.
Background Information
80% of Sheila Granger's clients were coming to see her for weight control. Her weight control method using hypnotherapy worked well, but she decided to include the "virtual gastric band" into her program, with a view to subjecting this to a trial. Sheila issued an invitation for volunteers to take part in the free trial and had little difficulty in achieving the required numbers. She took on 25 volunteers – of different shapes, sizes, age ranges and gender – and saw them in a group setting. Given that the treatment was not personalised, she envisaged perhaps only a 40% success rate, believing that group treatment might dilute its effectiveness.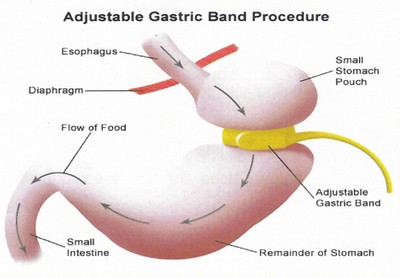 Trial results
The trial group underwent 3 one hour sessions of hypnotherapy which included the "fitting" of a virtual gastric band. Sheila was astounded to record that in total, the group lost over 14 stone (88.9 kgs) between them in just three weeks, and all but one reported a change in their eating habits. The average weight loss was 2 − 3 kg during week one, then 0.5 − 1 kg a week. A second trial was undertaken which proved as successful as the first. Sheila then began talks with the UK National Health Service about Virtual Gastric Banding and the use of hypnotherapy for weight loss.
There are obvious benefits to this system over conventional gastric banding which can be an extremely expensive and invasive procedure. The Virtual Gastric Band is proving to be a cost-effective alternative which delivers similar results as surgery in motivated patients.
Both local and national media became very interested in the trial results. Sheila's work has been reported in local, national and international newspapers and magazines as well as BBC television and radio. She is due to start filming with a television production company looking to build a documentary around getting the NHS to get behind virtual gastric banding.
The benefits of Virtual Gastric Band Hypnosis
The program is non-invasive and natural there is no dieting involved. There are no side-effects or complications, virtual gastric banding results in permanent changes to eating patterns, the program is cost effective when compared to surgery or diet products.
How the program works
The Virtual Gastric Band weight loss program consists of four one-on-one hypnotherapy sessions usually held weekly over a four week period. During the first session, we will discuss your goals and eating habits so that the program can be tailored to suit your specific needs. Hypnosis will be used in each session to change the way that you think and react to food. You will find yourself eating smaller amounts of healthy food and being fully satisfied because of the "fitting" of the Virtual Gastric Band. During these sessions, NLP techniques may be employed to help you achieve your weight loss goals. You will be asked to follow some simple guidelines at home just as you would if you had the actual surgery. You will be also given a hypnotherapy recording to use between sessions which will reinforce the work which has been done. After the programme, your eating habits should have permanently changed. However should you desire extra support, sessions can be arranged to meet long term goals.
How much does the VGB program cost?
The cost of the package is $595 – this includes four sessions, two recording plus written guidelines.
Over the years I have tried every diet going without much success. I then came across gastric band hypnosis. It has been amazing for me – I find I don't think about food all the time like I used to and am eating much smaller portions without feeling hungry. The weight is slowly coming off and I feel a lot more confident and happier in myself. Thank you so much.
"……….. Jan – Christchurch"
I love the fact that I can still eat what I like but have no desire to eat large quantities of food. And even though I can eat what I like I'm making healthier food choices without even thinking about it. I love the relaxation of the sessions and that it all seems so easy – no more counting calories or points, thinking about what I can and can't eat and feeling as though I have a constant battle with food. All of this and I'm losing weight! It's fantastic!
"……….. S.P."
Three years down the track and I have still kept the weight off for the first time ever, I'm absolutely elated! Thank you so much Stephanie!