Gastric Band Hypnosis – Weight Loss Programme
Sheila Granger Method
Lose weight without dieting!
Virtual Gastric Band hypnosis is is a non-surgical technique which uses the power of hypnosis to retrain you to be satisfied with smaller amounts of food. It changes how you think about food. It is not a diet – you just learn to eat smaller portions – you can eat what you want so there are no feelings of deprivation. It teaches you to listen to your stomach rather than head and eyes – babies have this mechanism in place, they cry to be fed when hungry and stop when they're full. It's about small realistic change and is designed to change the way a person thinks about food.
The benefits of Virtual Gastric Band Hypnosis
The program is non-invasive and natural there is no dieting involved. There are no side-effects or complications, virtual gastric banding results in permanent changes to eating patterns, the program is extremely cost effective when compared to surgery or diet products.
I work with clients one on one so that the sessions can be tailor made to each individuals needs. Group sessions can be effective for a small minority of people however I want the very best for my clients, one on one sessions are highly successful for the vast majority of people. I have hundreds of clients who have lost weight, some as much as 30kg+ and have kept the weight off.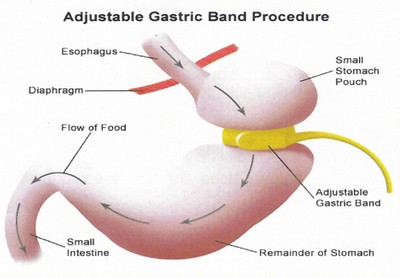 How the program works
The Virtual Gastric Band weight loss program consists of four one-on-one hypnotherapy sessions usually held weekly over a four week period. During the first session, we will discuss your goals and eating habits so that the program can be tailored to suit your specific needs. Hypnosis will be used in each session to change the way that you think and react to food. You will find yourself eating smaller amounts of healthy food and being fully satisfied because of the "fitting" of the Virtual Gastric Band. During these sessions, NLP techniques may be employed to help you achieve your weight loss goals. You will be asked to follow some simple guidelines at home just as you would if you had the actual surgery. You will be also given a hypnotherapy recording to use between sessions which will reinforce the work which has been done. After the programme, your eating habits should have permanently changed. However should you desire extra support, sessions can be arranged to meet long term goals.
How much does the VGB program cost?
The cost of the package is $595 – this includes four sessions, two recording plus written guidelines.
"Over the years I have tried every diet going without much success. I then came across gastric band hypnosis. It has been amazing for me – I find I don't think about food all the time like I used to and am eating much smaller portions without feeling hungry. The weight is slowly coming off and I feel a lot more confident and happier in myself. Thank you so much."
……….. Jan – Christchurch
"I love the fact that I can still eat what I like but have no desire to eat large quantities of food. And even though I can eat what I like I'm making healthier food choices without even thinking about it. I love the relaxation of the sessions and that it all seems so easy – no more counting calories or points, thinking about what I can and can't eat and feeling as though I have a constant battle with food. All of this and I'm losing weight! It's fantastic!"
……….. S.P.
"Three years down the track and I have still kept the weight off for the first time ever, I'm absolutely elated! Thank you so much Stephanie!"